Patriot Solutions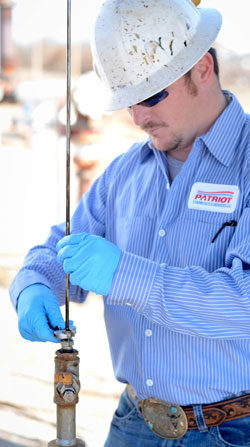 Fast, experienced service is the cornerstone of Patriot Chemicals and Services, LLC. When you need help, you will find no better solution.
OUR BACKGROUND AND PRINCIPLES
Our company was established to provide efficient, expert solutions in providing a wide range of chemical products to Producers, Gatherers, Oil & Gas Pipeline operations, and Drilling and Completions. Our primary services include oilfield chemical sales, delivery, and on-site setups, including tanks, pumps, and fittings. We also offer a host of specialty services to cater to the unique needs of our customers. Our staff has worked in all phases of oilfield operations. We approach each customer with the professional respect you deserve.
Operating a service business is not easy, especially in a highly competitive environment. We rely on experience, innovation, hard work and ingenuity to separate us from our competitors.
Patriot Chemicals provides customers with high-quality products and personal service. Our yard is strategically located in Ratliff City, Oklahoma, the heart of the Southern Oklahoma oilfield.
We realize Customers have a choice. Most oilfield chemical providers offer the same spectrum of products. Patriot builds trust through expertise and service. Providing good service means taking the time to listen. We will work with you every step of the way to make sure you receive the proper product at the right price with the expert services you need to keep your operation running smoothly. Our business is client-oriented, and we respect your operations while meeting all safety and compliance requirements as needed.
We hope you'll find the information you need on this site about our company and the products and services we provide. We look forward to working with you.
OILFIELD CHEMICALS AND SERVICES
Custom Chemical Needs
Every producing well has a unique signature. When that signature includes performance problems requiring chemical treatment intervention, we have resources to test, analyze, and recommend the most effective and economical product to mitigate and often eliminate the problem. Our objective: reduce well down times, increase efficiency, and expand recoveries over the life of the lease.
Product Delivery and Installation
Patriot has a well-trained staff to ensure prompt on site delivery and professional installation of various types and sizes of tanks with required labeling, containments, chemical products, and chemical injection pumps.
Inventory Monitoring
Once delivered, we set chemical injection rates according to the agreed recommendation. We follow up with scheduled inventory checks at your location to ensure pump rates are consistent and there is no lapse in treatment.
Oil and Water Analysis; Lab Resources Available; Tank Cuts
We have expert lab resources available with prompt turnaround times, depending on complexity of analysis required. We can often identify a problem by initial field analysis.
Water Injection, Water Disposal Facilities
Problems associated with H2O Injection and Saltwater disposal are corrosion by-products such as iron sulfide and iron oxide, various types of scale, paraffin, and asphaltenes, just to name a few. Additionally, water injection stations with high oil carryovers can result in significant revenue loss per year and threaten cumulative recoveries over the life of a well or lease. We have products that have been highly successful in controlling and eliminating these issues.
Processing / Refining Facilities
We offer a full line of oil and gas industry chemical products for Gas Processing.
Surveys and Price Quotes upon Request
Give us a call to request a survey of your production area and chemical treatment recommendation. Whether it's a single well or multi-section unitized area of operation, we'll work with you to optimize greater recoveries over the life of your lease or facility. High BS&W and load rejections cost Producers time and money. We have the products and expertise to help eliminate this problem.
TRUCK TREATING
Direct Wellhead Application
We operate two treating trucks for delivering down hole chemical treatment applications by well-trained efficient personnel.
Pipelines: oil and/or gas
Whether your operation requires pressurized truck treating methods or in-line continuous feed, we have available products for bacteria, scale and corrosion control, paraffin control, and bonding and dispersion of suspended solids. Patriot field personnel are trained and certified to install and retract coupons for corrosion monitoring.
Individual Wells or Multi-Well Units
We will be happy to visit with you about truck treating application, no matter how large or small.
Flexible Treatment Schedules Available
We have treatment schedules available: weekly, bi-weekly, monthly, bi-monthly, or customized according to specific customer needs.
EXPERT FIELD & OFFICE STAFF
Trouble-Shooting Expertise; Product Recommendation and Service
Our Staff has over 60 years combined experience in oilfield chemical treatment applications and problem solving. Gary has been in the business over 40 years, most of that time worked in Central and Southern Oklahoma. Four key elements that set us apart in the business are experience, service, product performance and value.
Our Customers come first
With the recent decline in oil prices, we realize it is imperative for our Customers to cut costs and streamline their operations. This is where Patriot products and services have a strategic advantage over larger, less flexible chemical companies. We clearly focus on what we have to do to keep YOU, the Customer, in business. Admittedly, we watch our bottom line. But we never lose sight of the fact that the key to our success rests on your success.
24 Hour On-Call Service
We have contact information, phone and email listings, on this web-site for your convenience. During normal business hours, 8 AM – 5 PM, call the office at 580-856-3114; after 5 PM, call Gary at 580-229-7575, or your Field Service Representative.
Service, expertise, and reliability
Our Sales and Service Techs work diligently with Production Engineers, Field Foremen, and Lease Operators to provide ongoing treatment information, well histories, and recommendation for performance improvement on new and existing wells.
Safety Training
Patriot Chemicals currently employs a mandatory aggressive safety training program. In addition, all field personnel participate in a drug and alcohol testing program.
100 Years of Experience
Our staff is not only trained to be the best. We have over 100 years of actual experience.